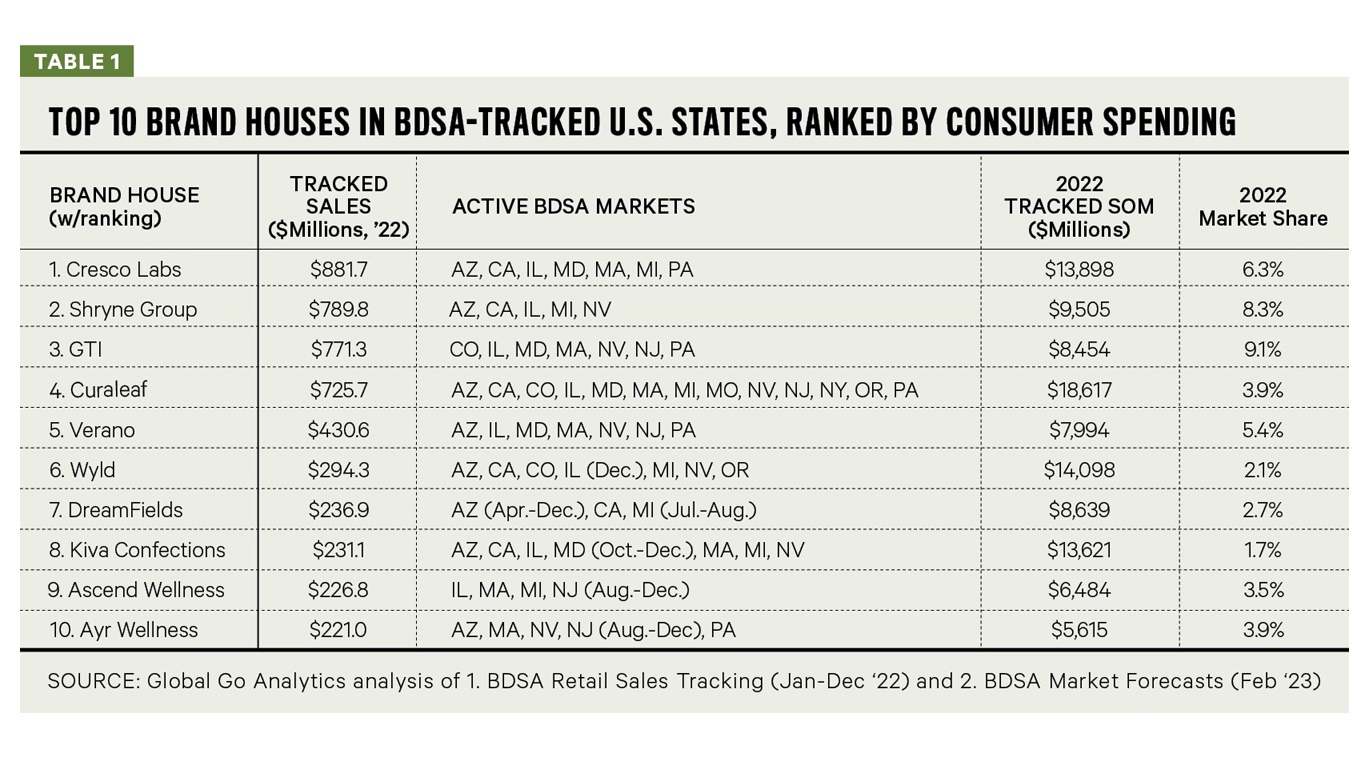 By the Numbers: Cannabis Brand House Leaders Emerge
There were more than 3,000 brands on the shelves of America's 10,000-plus cannabis stores in 2022.

A deep dive by Global Go Analytics into BDSA's Retail Sales Tracking of point-of-sale (POS) data across 14 states shows that leaders at this early stage of the industry are of two types:

Multi-state operators (MSOs)with their own retail sales outlets and wholesale distribution to other stores

Pure-play brand companies selling at wholesale, often through partnerships outside their home states MSOs and pure-play brands have pursued very different strategies to achieve Top 10 status.

What they have in common is that in the rigidly regulated, state-by-state structure of legal cannabis, they have all departed substantially from the brand-building playbook at mainstream consumer packaged goods (CPG) companies.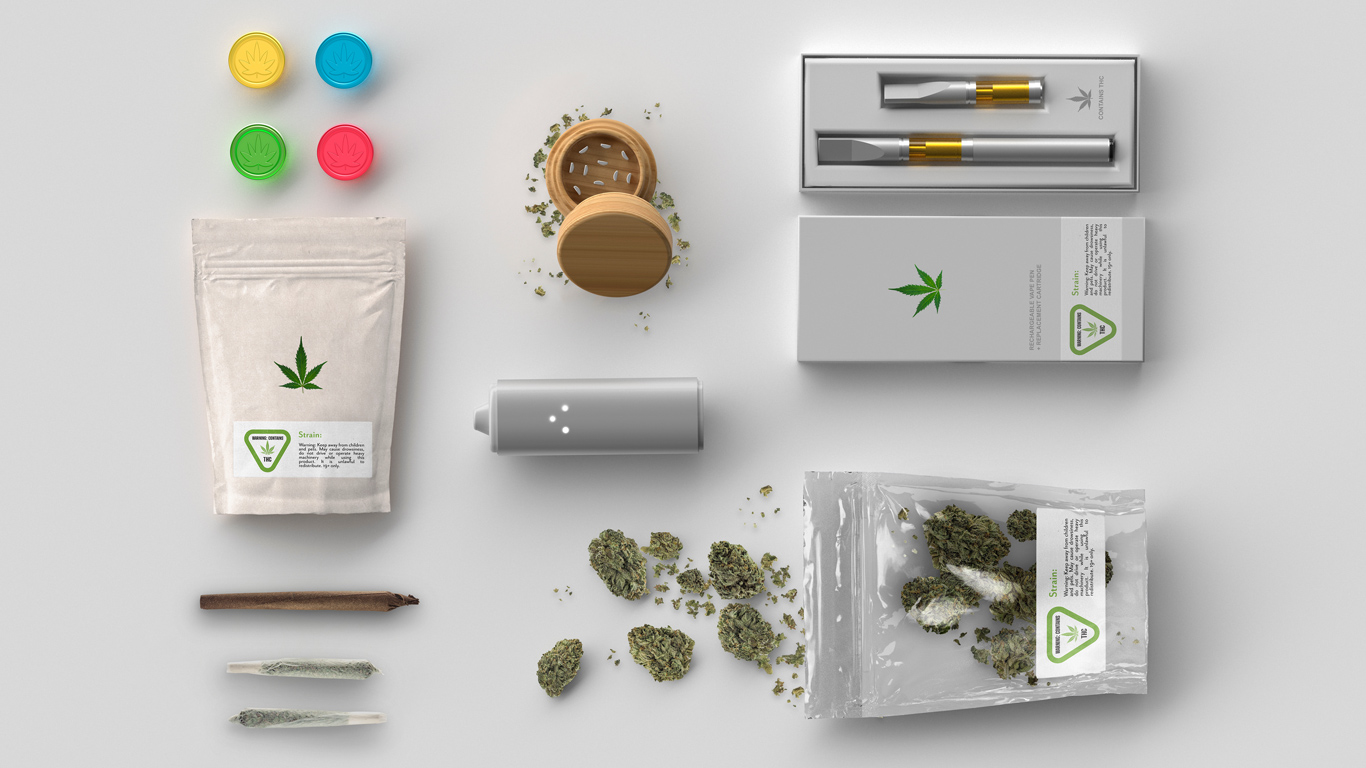 Major CBD Brands Report Steep Annual Sales Declines
The marketers of CBD finished goods continue to operate under severe financial strain. Two major brands, CV Sciences and Charlotte's Web, have recently reported depressed earnings and significant downsizing initiatives.

In a recent earnings call, CV Sciences reported that a drastic cost-cutting program, which saw the company reduce its headcount by almost 40% over the course of 2022, enabled it to eke out a positive cash flow of $200,000 from operations in the fourth quarter.

In a recent earnings release, competitor Charlotte's Web led with the good news, too: In the past year, the company has concluded a deal with Major League Baseball to have its products listed as the "official" CBD of MLB.

The company also announced a $56.8 million investment from British American Tobacco.

That cash will help offset the steep decline in revenue. Charlotte's Web reported 2022 total revenue of $74.1 million, a decline of 22.8% from the $96.1 million recorded in 2021.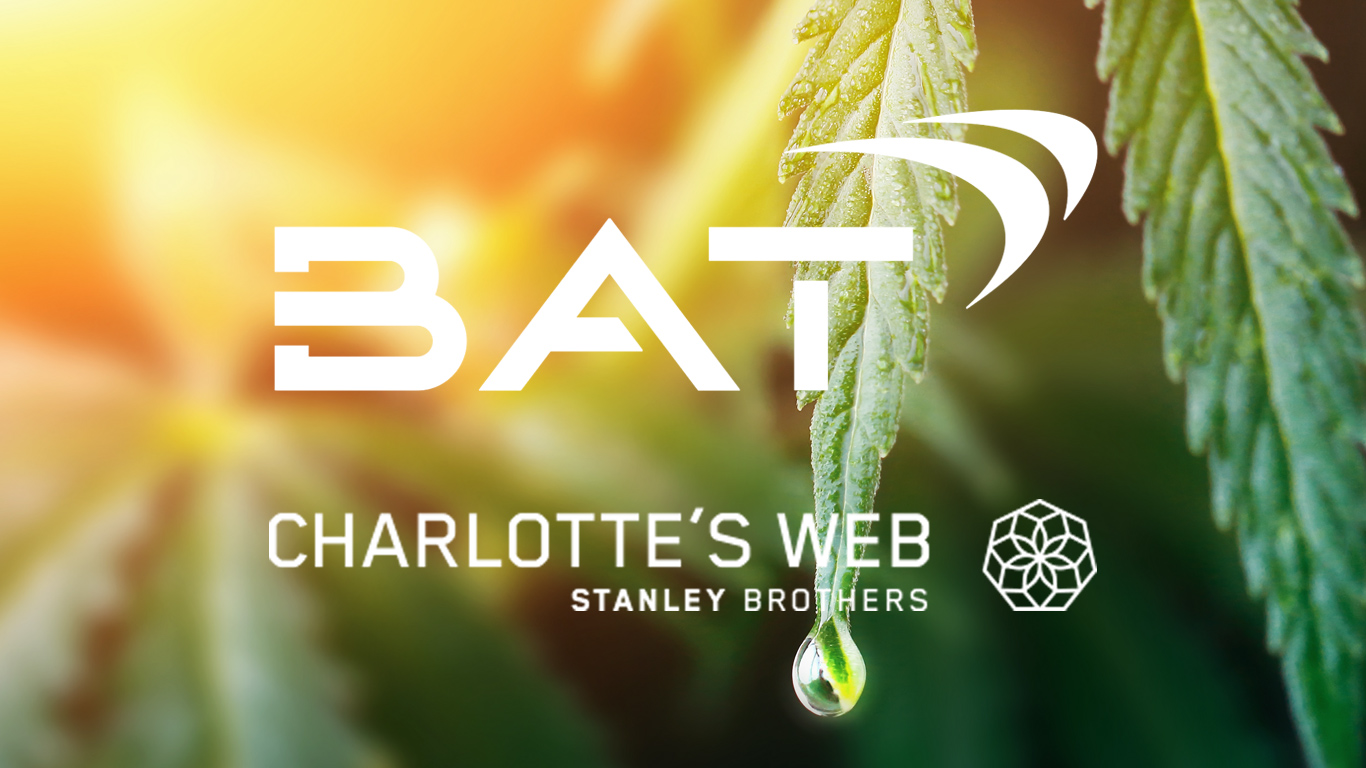 Charlotte's Web Forms Joint Venture With BAT And AJNA BioSciences To Seek FDA-Approval For Proprietary Full Spectrum Hemp Extract Botanical Drug
Charlotte's Web Holdings, Inc. announced it has formed a joint venture with AJNA BioSciences PBC, a botanical drug development company focused on mental health and neurological disorders , and a subsidiary of British American Tobacco PLC, which is contributing US$10 million as the JV's initial investor. AJNA is partially owned and was co-founded by its president, Joel Stanley, the former CEO and Chairman of the board of Charlotte's Web, together with certain other founding members of CW.

The JV was established to pursue FDA-approval for a novel botanical drug to target a neurological condition identified by the JV leadership team, which will be composed of CW, AJNA and BAT representatives. This novel botanical drug will be developed from certain proprietary hemp genetics of CW. The JV plans to engage with the FDA to file an Investigational New Drug ("IND") application and commence Phase I clinical development in 2023.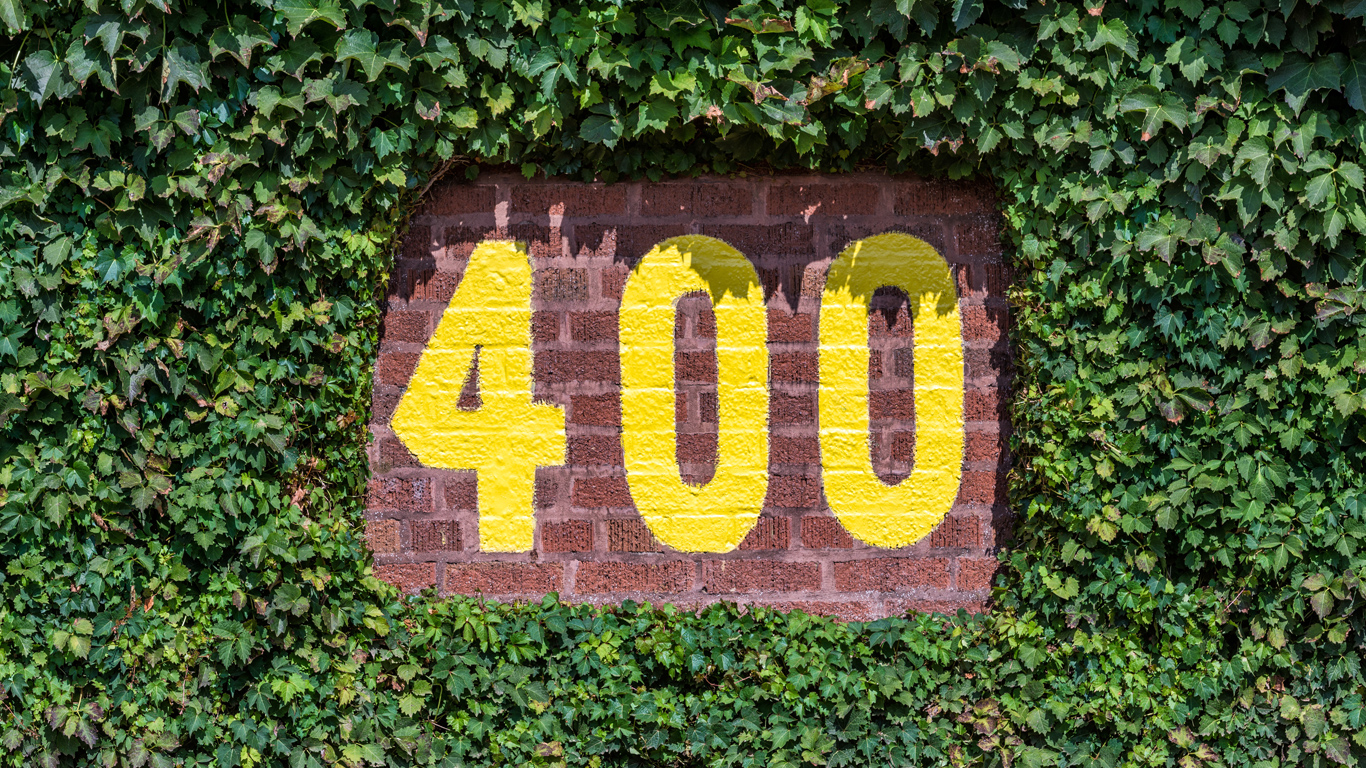 Chicago Cubs Become First MLB Team To Officially Partner With CBD Company
The Chicago Cubs is the first Major League Baseball (MLB) team to officially partner with a CBD company.

While MLB announced its league-wide

partnership with a popular CBD brand last year

, this marks the first time an individual club has teamed up with a cannabis company.

The Cubs struck a deal with the CBD sparkling beverage brand MYND DRINKS.

The agreement means that the company's products will be marketed in signage at at Wrigley Field and promoted through "several in-game features."

The league said last year that individual teams could

start selling partnerships to cannabis companies

. In order to do so,

a prospective business's products must be certified by NSF International, a consumer safety and product-testing organization that sports leagues use, and the club must also receive authorization from the MLB commissioner's office.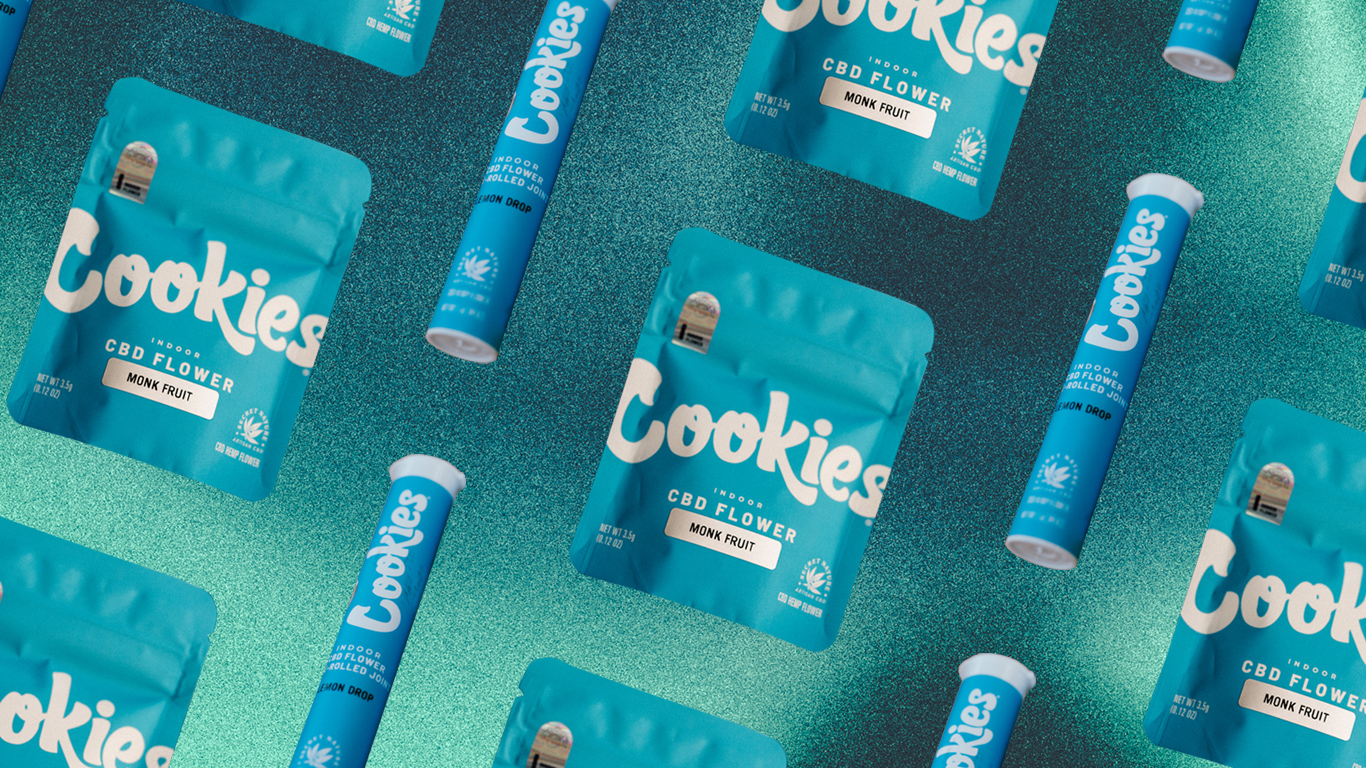 22nd Century Group Announces Exclusive Agreement With Cookies For CBD Products
22nd Century Group, a biotech company dedicated to improving health through advanced plant technologies, announced a

three-year exclusive agreement with global hemp/cannabis company, Cookies.

The deal covers

all Cookies-branded non-Delta-9 THC, hemp-derived cannabinoid consumer packaged goods, including sourcing of all ingredients and APIs, white-label manufacturing of vapes and other CBD products, and category management through retail distribution.
The agreement will leverage 22nd Century's experienced consumer packaged goods sales team to distribute Cookies products in up to 60,000 retail stores across 18 markets. This will coincide with the rollout of the 22nd Century's innovative very-low-nicotine traditional cigarette products during 2023. The agreement's integrated go-to-market sales and distribution components will establish the foundation of an innovative new CDMO plus distribution business model for the 22nd Century.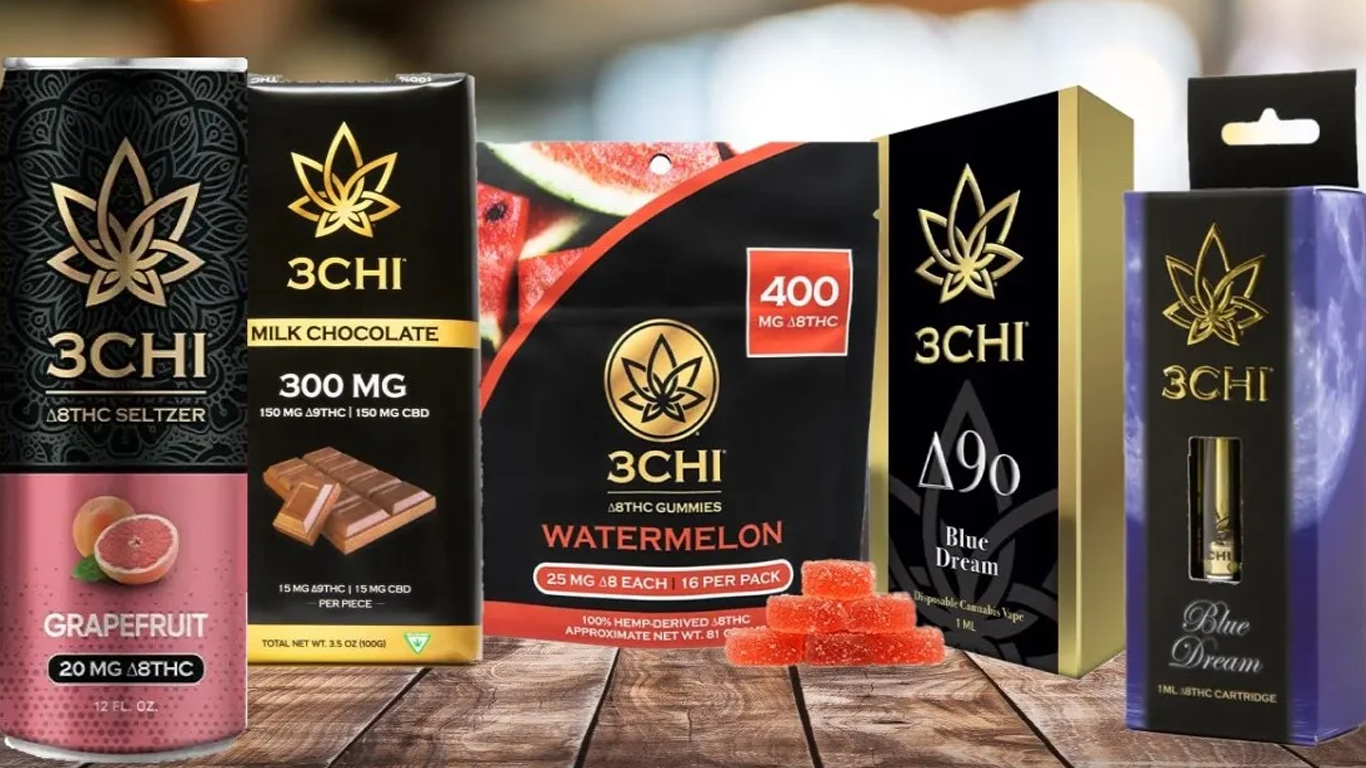 3CHI Sets New Industry Standard With Isolation Of 99%+ Pure Delta 8 THC
3CHI, a renowned pioneer in the cannabis and hemp-derived cannabinoid market, is thrilled to announce its landmark achievement in

isolating delta 8 THC to purities exceeding 99%. 

This breakthrough establishes 3CHI as the manufacturer of the world's top 3 purest hemp-derived Delta 8 oils, including Gold Delta 8 (95% purity) and Reserve Delta 8 (91%).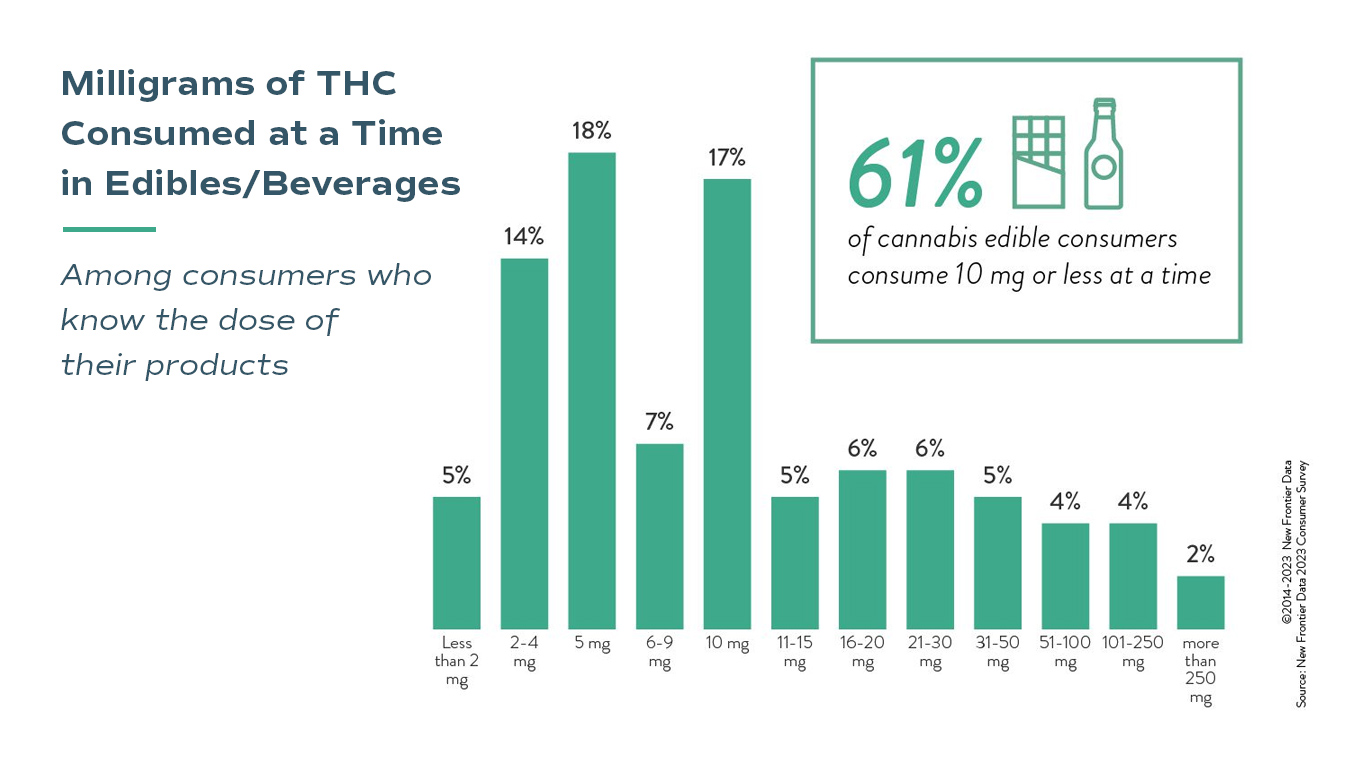 Rethinking Cannabis Potency: Are Low Dose Products The Appropriate Choice For Most Consumers?
Among edible and beverage consumers who have information about the dose of their product,

19% consume less than 5 mg of THC at a time, and 18% consume 5 mg at a time. A majority—61%—consume 10 mg or less at a time. 

While this doesn't necessarily mean that 10 mg or less is the appropriate dose for a majority of cannabis consumers, it does provide insight into the preferences of a significant portion of the market.

Notably, many consumers who require higher doses to feel the effects of cannabis often avoid edibles and opt for higher potency—and therefore more cost-effective—product forms like concentrates. However, edibles are used by a majority of consumers (58%), indicating that there is a sizable market for lower-dose cannabis products.
The Demographics Of Cannabis Consumers
Millennials have made up the majority of cannabis sales

since legalization and continue to do so. They currently make up a little under

52% of total sales,

with the remaining half split evenly between Generation X and the other three generations (baby boomers, the Silent Generation, and Generation Z).

However, the real story here is about growth. 

Gen Z,

as Generation Z is casually referred to, is just coming into the market, but are coming in hot.

Their market share doubled from 3% in 2018 to about 6% in 2019. 

Each year has added one year of Gen Z to the market, so it's reasonable to assume they could continue to make significant leaps until the entire generation is of legal purchasing age. If that trend continues unchanged, the entire market will be dominated by Gen Z and millennials in a few years.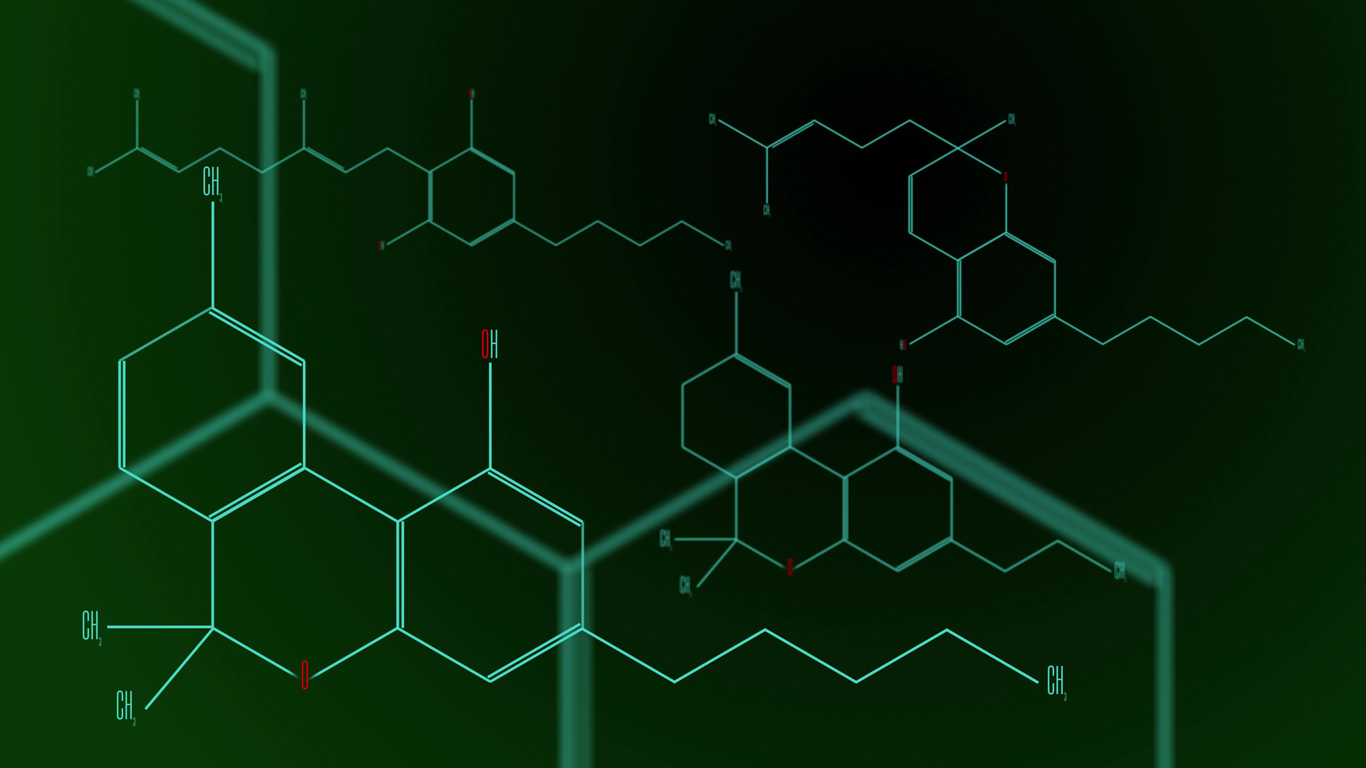 Minor Cannabinoids Making Major Inroads Targeting Specific Medical Conditions
New information and research about minor cannabinoids – among the 100-200 that have been identified – is helping treat different health and wellness conditions and allowing cannabis companies to sell a wider variety of products.

The products go beyond the typical THC and CBD offerings currently on store shelves, and they incorporate lesser cannabinoids such as CBN and THCV.

Researchers are studying the cannabis plant to determine whether minor cannabinoids can be effective at treating everything from epilepsy and traumatic brain injury to other conditions that have yet to be identified.

Most of the new marijuana products being developed today involve four minor cannabinoids, none of which have the same psychotropic effect as THC:

Cannabigerol (CBG), reputed to help fight inflammation, pain and nausea.

Cannabichromene(CBC), one of the most abundant cannabinoids in the plant – first isolated in 1966 – and said to play a role in anti-cancer and anti-tumor capabilities.

Cannabinol (CBN), reputed to be a sleep aid or sedative.

Tetrahydrocannabivarin (THCV), dubbed "diet weed" and purported to help with weight loss.
Updates About Industry
Regulation
Minnesota Would Become An Outlier With Legislative Bundling Of Hemp And Marijuana
The Minnesota Industrial Hemp Association (MIHA) said licensing categories included in House and Senate versions of an adult-use marijuana bill would create a complex legal and regulatory framework, and called for rules to advance interstate commerce and assure a functioning production chain for industrial hemp.

The Minnesota legislation would create regulations, licensing, and taxation for all products that contain THC – including hemp despite the fact that the hemp plant expresses levels of 0.3% total THC or less.
Colorado Lawmakers Say Compromise Reached On THC Levels For CBD
A fundamental provision in the bill defines hemp- and marijuana-derived compounds in three categories: Non-intoxicating cannabinoids; potentially intoxicating compounds; and intoxicating cannabinoids. Non-intoxicating cannabinoid products such as CBD derived from hemp may be produced, distributed, or sold in Colorado.

Bipartisan sponsors of SB 271 say they've now struck a compromise that accepts the 1.75 milligrams limit and resets the maximum CBD-to-THC ratio at 20-to-1 while removing entirely the limit on servings per package.
Virginia Governor Amends Controversial Hemp Bill
Virginia's governor amended a contentious bill that would have limited hemp-derived products in the state to 2 milligrams of THC per container.

Gov. Glenn Youngkin's amendments will allow hemp-derived products to contain a CBD-to-THC ratio of 25-to-1.

The governor also removed another provision in the bill that would require producers to add a bittering agent to hemp topicals.
Tennessee Sets New Rules For Hemp-Derived Cannabinoids
Under the bill:

Hemp-derived cannabinoid products must undergo lab testing, abide by labeling requirements and be sold in child-resistant packaging.

Retailers selling hemp-derived cannabinoids must acquire a license from the state agriculture department by Jan. 1, 2024.

The fee for a producer license is $500, while retailers must pay $250. Producers were already subject to a licensing requirement.

Sales will be subject to a new 5% "privilege tax" that state law says must "be used exclusively for the regulation of products containing a hemp-derived cannabinoid."

Anyone violating the new rules may be fined $1,000 or charged with a misdemeanor.

Purchasers of products containing hemp-derived cannabinoids must be 21 and older.

Some states that have legal adult-use marijuana industries have banned hemp-derived cannabinoids such as delta-8 THC altogether. Meanwhile, states where marijuana is still illegal, such as Tennessee, have acknowledged the demands for such products made federally legal under the 2018 Farm Bill.
Kentucky Medical Cannabis Bill Passes Senate
The Republican-sponsored legislation would establish a medical cannabis program and permit practitioners to grant their patients access to medical cannabis if they think they could benefit from it. S.B. 47 outlines a specific list of qualifying conditions, including cancer, multiple sclerosis, chronic pain, epilepsy, chronic nausea and post-traumatic stress disorder, AP reported.

Under

Beshear's executive order

, which took effect Jan. 1, Kentuckians with qualifying medical conditions can legally purchase cannabis in the U.S., possess up to 8 ounces and use it to treat their medical conditions. But purchasing cannabis in Kentucky remains illegal without approved legislation for a licensed and regulated program.

If approved by the House and ultimately signed into law by Beshear, S.B. 47 would take effect in 2025, AP reported, to give state health officials time to establish medical cannabis regulations.
The Latest
Category & Research Trends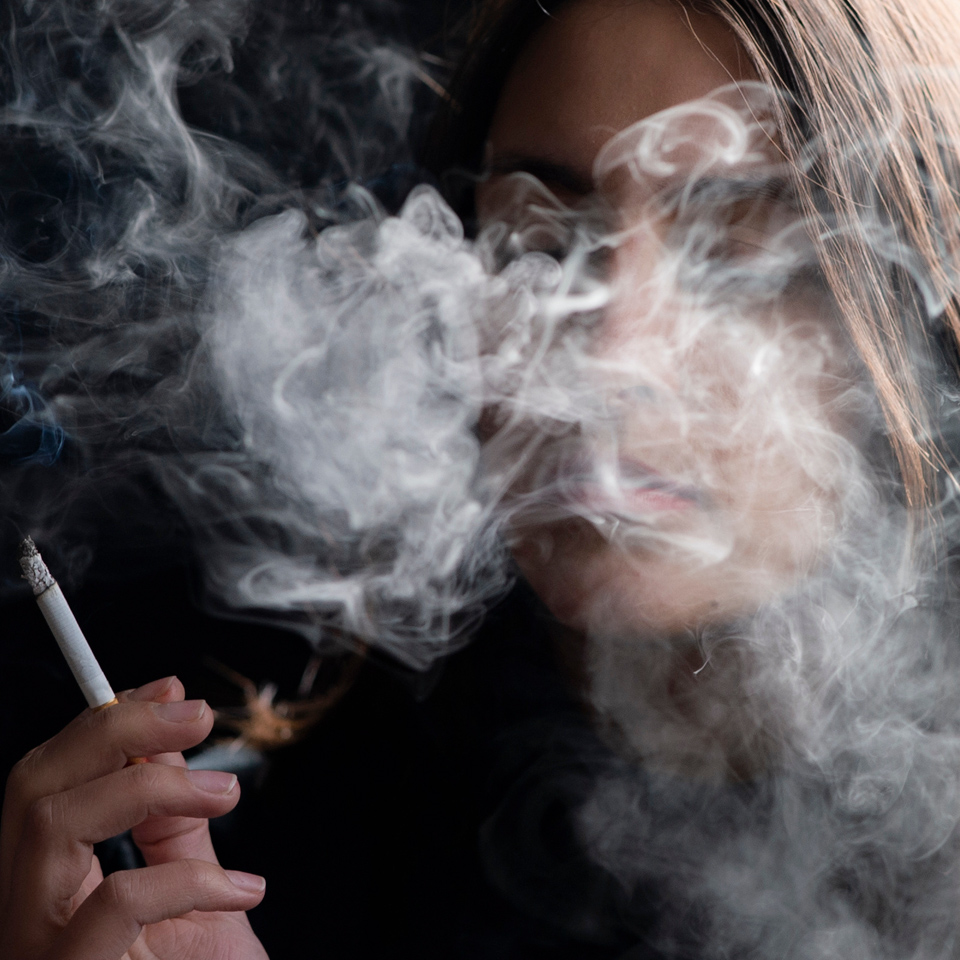 Cannabidiol Reduces Nicotine Withdrawal Severity And State Anxiety During An Acute E-cigarette Abstinence Period: A Novel, Open-Label Study
8.1 million adults in the United States use e-cigarettes. Notably, the majority of nicotine-containing e-cigarette users report wanting to quit in the near future, yet there is a dearth of research surrounding intervention efforts. Cannabidiol (CBD) has potential to facilitate e-cigarette quit attempts by decreasing withdrawal symptom intensity and anxiety during nicotine e-cigarette abstinence.
​

States That Legalize Marijuana See Reduced Tobacco Use, Study Finds
While some public health experts have expressed concerns that the legalization of marijuana could fuel a rise in the use of tobacco products,

a new study instead concludes that state-level cannabis reforms are mostly associated with "small, occasionally significant longer-run declines in adult tobacco use."
Researchers did find "consistent evidence" that the adoption of state recreational marijuana laws (RMLs) led to a slight uptick in cannabis use among adults

—of between about two and four percentage points, depending on the data source—

but tobacco didn't follow that trend.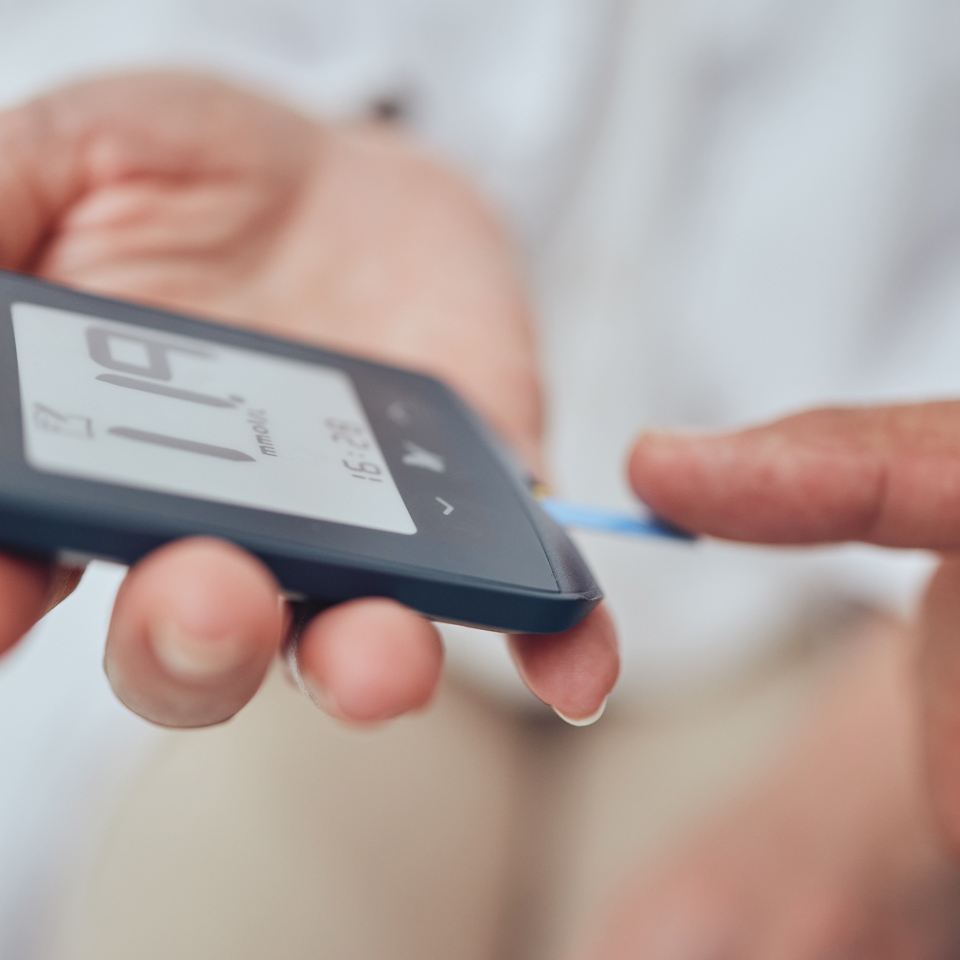 Clinical Trial: CBD/THC Combination Controls Blood Sugar, Lowers Cholesterol In Type 2 Diabetics
Diabetic patients administered a sublingual spray containing CBD and THC show improvements in their blood sugar and cholesterol levels, according to placebo-controlled data published in the Iranian Journal of Pharmaceutical Research.

A team of Iranian investigators evaluated the efficacy of a proprietary formulation of plant-derived CBD/THC compared to placebo in a cohort of 50 patients with type 2 diabetes. Patients utilized the spray twice daily for eight weeks. The sublingual formulation contained a 10-to-1 ratio of CBD to THC.
Luxury Meets Cannabis
NYC, NY
International Cannabinoid Research Society
Toronto, ON
International Food & Tech Conference
Chicago, IL