Author: Dave Neundorfer, CEO
With so many people scared and secluded, it feels trivial to speak about how this human tragedy impacts our business during these trying times. So, I want to start by wishing everyone health, safety and peace before transitioning to how COVID-19 has and will continue to impact the CBD industry. 
Now, the industry perspective…
The market entered 2020 oversaturated with products and brands, experiencing extreme price compression (~75%) on the ingredient side and, with CBD processors and brands struggling to stay afloat. Then came COVID-19, the second of a one-two punch that pushed the market into the "trough of disillusionment" on the Gartner Hype Curve (see below).
The CBD bubble is bursting right now–leading processors are filing for bankruptcy, thousands of brands are struggling to stay afloat, and users–many of whom test-drove CBD bought at the local gas station–are questioning the utility of cannabinoids after shelling out $50 for an experience that didn't live up to the hype. Existing and potential consumers are confused about the product, just as overzealous investors and operators are confused about why the industry hasn't already jumped to $5B as many pundits predicted.
While many call it a collapse or a correction, I call it a much needed cleansing. There are simply too many bad products on the market. Going forward, quality and efficacy will win the day for both processors and brands while providing users a better overall experience. This evolution to "flight to quality" from the historical "flight to price" will end up being the driving force behind what is and will continue to be one of the most exciting category developments of our generation.
To put this shift in perspective, let's segment the hype curve into three distinct cycles: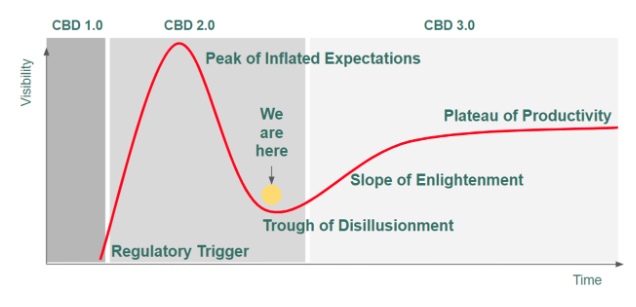 CBD 1.0 (pre 2018 farm bill) was a cottage industry with a cult following that was born out of the California and Colorado marijuana markets. Charlotte's Web (RIP Charlotte Figi, our brave trailblazer for this entire industry) was the first major brand that generated buzz for their brand and for the industry through its compelling founders story and Sanjay Gupta interviews ("Weeds"). That said, they were an outlier of the primarily small scale producers and brands in the space.
CBD 2.0 was triggered by the passing of the 2018 Farm Bill in December, 2018. While the Farm Bill descheduled hemp and hemp-derived CBD, this market cycle has been defined by the lack of safety research resulting from the 80-year prohibition and the regulatory void created by the FDA's delay in setting the rules for incorporating CBD into dietary supplements, food and beverage. Despite this regulatory murkiness, the Farm Bill catalyzed massive investments and led to the "fad-ification" of CBD as a result of the gold (green) rush mentality. The number of brands in the space exploded to the thousands while leading processors entered a capacity-race that could satisfy existing global market demand 50x over. This overzealous market expansion caused a net reduction in product quality and a net increase in marketing hyperbole which, taken together, created confusion and concern for regulators and existing and prospective CBD users. 
CBD 3.0 is coming. It will be defined by research to ensure safety, and regulations to ensure quality and consistency, which will in turn unlock traditional banking services and drive the entrance of new and existing legitimate brands into the space. This evolution will provide consumer packaged goods (CPG) companies and big box retailers the legal clarity and safeguards to launch private label brands and create more shelf space for CBD-infused products that focus on outcomes (pain and anxiety reduction and sleep enablement) rather than the ingredient itself (it's CBD, use it for everything!). 
While the market is still stuck in the CBD 2.0 cycle, OBX is obsessively focused on accelerating the market to CBD 3.0. We are doing this by setting a high bar for product quality, consistency, and safety through voluntary self-regulation and an unremitting focus on enhancing user experience: 
We designed and built our facility to comply with the FDA's current Good Manufacturing Practices protocol (cGMP) that is used for ensuring quality for food, beverage, and dietary supplement manufacturers. We recently received our official certification for both Dietary Supplements and Human Food.

Our pharmaceutical-level team of chemists oversee quality assurance and quality control by testing each product at each phase of production. 

Our software development team built a custom inventory tracking system to allow complete product provenance and data tracking from the field through the final product. 

Our world-class formulations team advances the efficacy and quality of ingestible and topical products for our partner clients and brands. 

Efficacy is our north star, and we are developing and launching highly differentiated ingredients (HydroBond water soluble powder and concentrated liquid) and packaging (Easysnap precision dosing) to ensure users have the best and most effective experience possible. 

We are investing the research needed to inform our product innovations and educate consumers.

We are operating holistically to ensure the CBD market is greener (sustainable farming practices), truer (research to ensure product safety, inform ingredient innovation, and educate consumers), and fairer (social justice initiatives to address the disproportionate negative impact cannabis has had on minorities).  
Through these efforts, OBX will serve as the blueprint for regulators when they finally define the rules of play for this market.
So, as we did on a daily basis before COVID-19 and will continue once social distancing restrictions are lifted at our facility in North Carolina, we invite you–consumers, processors, brands, regulators, and service providers–to join us as we work to advance the industry. Together, we will emerge from CBD 2.0's trough of disillusionment and into CBD 3.0's slope of enlightenment with maximum productivity. While painful today, this market cleansing that solves for quality and efficacy is exactly what the industry needs to reach the maturity, professionalism and scale projected over the next decade.
Over the next decade, led by regulatory clarity and access to banking, legitimate brands will offer consistent, reliable products with function-specific formulations that are supported by safety and efficacy research. Doctors will recommend a daily cannabinoid supplement and consumers will not be able to imagine a world without this truly amazing, non-addictive, plant-based medicine that enables physical and mental homeostasis and makes the world that much better.